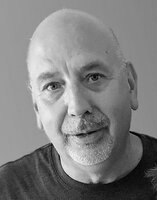 George Vincent Armitage
George Vincent "Vinnie" Armitage, 63, of West Pittston, passed away unexpectedly on Sunday September 25th, 2022 at Geisinger CMC in Scranton, with his beloved wife and children by his side.
Born on February 10th, 1959 in Wilkes-Barre he was a son of the late Joseph Seneca and Marion Marcy Armitage and attended Pittston Schools. After High school he got his associates degree from Luzerne County Community College.
After many years of hard work and success in a printing and sales career, most recently at Pennsylvania Paper and Supply, he retired to spend his winters with his wife at their "paradise found" in Dunedin, Florida.
Vince and his wife Sally were married for 36 years, and had two wonderful children who he loved dearly Stephen and Jane. He also had a family friend and "second daughter" Elizabeth McHugh Nayavich Anyone who knew Vinny knows that he loved be outside enjoying nature and also loved gardening.
George was preceded in death by a brother, Duane.
He is survived by his wife, Sally Risse Armitage, son, Stephen, West Pittston, daughter, Jane, Palm Harbor, Fl, grand dogs, Winnie, Smudge, and Charley and his pup Buddy, brothers Joseph and Fiancé Gloria, Pittston, James and his wife Rose, Duryea, Robert, Pittston, Robert Smith and wife Betty , Pittston, sisters, Mary-Jo Armitage and partner Helene, Pittston, Barbara Barletta and husband Malcolm, Ransom, Francis Moran Armitage and Fiancé John, West Pittston, and Betty Jane Armitage, Pittston, along with many nieces and nephews and friends.
Family and Friends are invited to attend a viewing on Thursday September 29th, 2022 from 5pm until 8pm at the Howell-Lussi Funeral Home Inc., 509 Wyoming Avenue, West Pittston.
In lieu of flowers may be made to a charity of your choice. Vince never cared for the traditional black funeral attire, so feel free to come less formal.
Online condolences can be left at our website at Howelllussi.com.