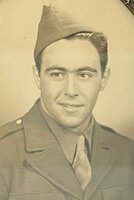 Eugene C. Pisano
Eugene Pisano, 95, of Exeter, passed away peacefully with his family by his side on Sunday October 2nd, 2022 at his home.
Born in Pittston he was a son of the late Michael and Mary Sagliuccolo Pisano.
He attended Pittston schools and then enlisted in the United States Army during World War II. After and Honorable discharge, he served as a Masonry instructor for the G.I School. He was self-employed for many years as a plaster man.
Eugene was a member of St. Barbara's Parish, Exeter.
He was preceded in death by his loving wife of 73 years Norma Manturni Pisano on September 21st, 2022, brothers, Phillip, Anthony, and Dominick Pisano.
Surviving are his children, Michael Pisano and wife Joyce, Luzerne, Eugene Pisano and wife Kathleen, Exeter, and Nettie Barba and husband Joseph, Exeter, grandchildren, Elizabeth Pisano Potrzuski and husband Allen and Gino Pisano; great-grandchildren, Grace and Jake Potrzuski and Gino IV and Nicholas Pisano; sister, Stella Centrella, Pittston Twp., and numerous nieces and nephews.
The family would like to thank Hospice of the Sacred Heart for the outstanding care and compassion they provided to both Eugene and Norma.
The family will receive relatives and friends on Wednesday October 5th, 2022, from 9:30am to 10:30am in St. Barbara's Parish 224 Memorial Street, Exeter. A Mass of Christian Burial will be held at 10:30am with Monsignor John Sempa as the Celebrant. Interment with Military Honors will follow in St. Rocco's Cemetery in Pittston Twp.
Arrangements are by the Howell-Lussi Funeral Home Inc., 509 Wyoming Avenue, West Pittston.
Online condolences can be left at Howelllussi.com.