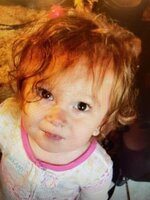 Phoenix R. Kasisky
Phoenix R. Kasisky, our daughter woke up the angels on December 23rd, 2022.
Born on May 16th, 2021 she was the daughter of James Kasisky and Valentina Varela-Luis.
She will be dearly missed and will be in our hearts forever.
Phoenix is survived by her father, James Kasisky, mother Valentina Varela-Luis, brother James, at home, paternal grandparents, Joyce Kasisky and pop-pop Eugene Pavlico, maternal grandparents, Crystal Botello-Hendrickson and Raymond Hendrickson.
Services for Phoenix will be private and held at the convenience of the family. She will be laid to rest in St. John the Baptist Cemetery, Exeter.
Arrangements are by the Howell-Lussi Funeral Home Inc., 509 Wyoming Avenue, West Pittston.
Online condolences can be left at Howelllussi.com.