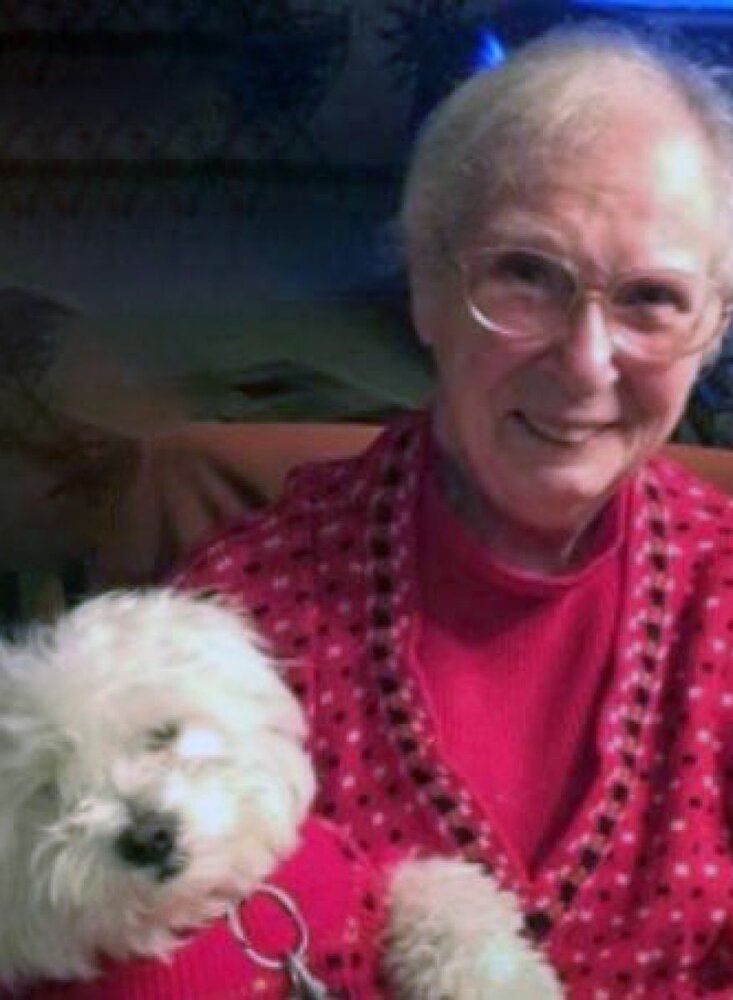 Obituary
Please share a memory of Catherine to include in a keepsake book for family and friends.
Kathleen Martinelli, 91, of Laflin died Monday, November 1, 2021 in her home surrounded by love, family and music following a lengthy battle with old age. Born in West Pittston on December 9, 1929, she was the daughter of Harry (Evans) Black and Catherine (Melvin). She was a summa cum laude graduate of West Pittston High School, Class of 1947. She was a telephone operator for Bell Telephone, but her real life's work was raising a family of six children and later an extended family of step children, grandchildren and great grandchildren. She had enough love (and energy) for all of them! She was employed by Bell Telephone in her teenage years, right after high school until marriage in 1950 and then in 1971 she returned to work full-time after her husband's (Bill Palum) first heart attack. In typical fashion, she rallied in tough times and showed continual strength while working straight through to a lively retirement party after 30 years of full-time commitment arranged by dear friends Janice Brody and Marilyn Goeckel. Bill's poor health provided Kathleen a life-long friendship with Dr. Joseph Lombardo that bears special mention here as he shepherded her for nearly 50 years of heath care and monthly "social visits" as she would call them. Kathleen was a life-time member of the Telephone Pioneers, an avid reader with Taylor Caldwell's Let Love Come Last being her all-time favorite book, but as she would say "with Lonesome Dove by Larry McMurtry a very close second!" She loved music, every kind, every genre (except bing bang boom) and there was always music on in her home right up until her last breath when we played her favorite holiday music. She loved the holidays and with her birthday in December and her dad being Santa Claus (first at the North Pole in Lake Placid, NY and later locally at Fowler-Dick-Walker in Wilkes-Barre and The Globe in Scranton), she absolutely cherished the Christmas Season. All holidays were spectacular… but from October through Russian New Year… her home was decorated to the hilt. Ironically, that may have even rubbed off on most of her children! While raising her children, she was always active as a Girl Scout leader, catechism (CCD) instructor at Immaculate Conception Church in West Pittston and later a Wyoming Area High School Band Parent, traveling to all of the local football games and band competitions with her childhood forever friends Aunt Joanie (Yonelunas) Bahl and husband, Uncle Eddie Bahl. Together they also formed their own personal Penn State tailgating team… what memories they had in 70 years of friendship. Kathleen's life gained even greater happiness in her later years when she joined the Pittston Senior Center with Aunt Helen DeLuca and met her knight in shining armor, Joseph Vincent Martinelli. His love rescued her from the darkness and loneliness of being widowed after 42 years of marriage. Joe was full of life and got her involved in everything. They sang together in the Pittston Senior Center Chorus and Avoca Community Choir. He even got her bowling on several teams and she helped him to form a traveling bowling league with the Senior Center. Together they bowled on several local leagues including Modern Lanes in Exeter, Elko's in Dupont and Stanton Lanes in Wilkes-Barre. (This was the only "exercise" she liked… besides dancing polkas, of course!) She was a continual learner - taking real estate and tax classes, computer learning classes, arts and crafts, public speaking with her "dollar words", ceramics and even Powder Puff mechanics at Bell Telephone. She loved history and was a very proud American never missing the chance to wear RED, WHITE and BLUE on every Memorial Day, 4 th of July, Labor Day and most importantly to her, Veterans Day. It is fitting that she will celebrate this 11/11 with her veteran husband and brother. And we are certain she will be teaching patriotic songs, making everyone wear The Colors, Raise a Flag, and play John Phillip Sousa marches all day! While she claimed to be a home body and loved to record her favorite TV shows… everything from Judge Judy, Wheel of Fortune and Jeopardy to Pennsylvania Polka, Saturday Night with Lawrence Welk, and even The Bachelorette, she loved to travel. At first just to Atlantic City on bus trips to "make her deposit," but that universe grew to include California, Florida, Las Vegas, NV, Nashville, TN Hawaii, Vermont, Niagara Falls, Delaware, Salt Lake City, UT, Branson, MO and of course Virginia and North Carolina to visit family. Kathleen loved to play the piano, sing and dance, bake Christmas cookies, and eating her coffee ice cream. She canned her own tomatoes, chili sauce and pepper relish (from her mother's handwritten recipes) and even wrote her own songs and poems. She loved the color RED, and when Joe came along YELLOW moved way up on the list! She was a great mix of FORMALITY: always ironing and correcting poor grammar, yet FUN: never a moment without a pun or a joke in conversation! She always carried a few things with her wherever she went: a handkerchief, a good book, her puzzles, a sharp pencil, and her lipstick. She was preceded in death by her loyal and loving husbands, special friend Sam DeSalvo, parents, in- laws, brother Harry Black and wife Alberta (Pugh), sister-in-law Kay (Palum) Glasser and husband Fred, son-in-law Robert Walling, and nephew Donald Black. Her list of passing friends is too long to list and with each announcement she read, she yearned for her youth and shared vivid memories of laughter and good times. Her later years were blessed by her very special "puppy boy": Romeo Martinelli. Never much of an animal person, she would INSIST that Romeo found her that first Christmas after Joe passed… and there was no changing her mind… that getting a puppy at 84 years old may not have been a good idea!! And that Pittston Senior Center saved her life… made possible by former director Connie (Colella) Andrews Kokinda, friends of Table 2 Troublemakers (Amy and Juanita). They all kept her busy and filled her days with bingo playing and the Friday Wii bowling team consisting of her eldest daughter Barbara Joan, and dear friend, Phyllis Bonomo. Kay (as Sam called her) playfully named them: Sam's Harem. She is survived by daughters Barbara (Palum-Walling) Shock and husband Jerry, Duryea, PA; Joyce (Palum) Mashinski and husband Bill, Fairfax, VA; Sharon (Palum) Eroh and husband Ron, Raleigh, NC; sons William (Billy) Palum and lifetime companion Mary Kay Berringer, Sterling, VA; James (Jimmy) Palum and wife Theresa, Goodview, VA; and youngest daughter Nancy Lynne (Palum) Bono and husband Rod, Raleigh, NC; stepson Joseph Martinelli and wife Dobbie, Dunmore, PA. and final caregiver Sammi Williams - her own personal angel of care. 17 grandchildren and 14 great grandchildren. A final wish of my mother's was to thank the Keim family and her forever friend Joan Pribula personally, particularly for writing letters to her over these past few years. She treasured those (and her beautiful handwriting.) When you live to 91, you outlive most of your loved ones and she always prayed to never have to bury a child. God granted her that wish as we are all honoring here with all of these words today. God Bless. Guests may call from 4-7pm Sunday, November 7th, 2021 at the Howell-Lussi Funeral Home Inc., at 509 Wyoming Avenue in West Pittston or from 9-10am at the back of St Maria Goretti's Church, Laflin, PA.with a Catholic Mass officiated by Father Paul McDonnell immediately following at 10am. Final resting place will be Mountain View Cemetery, Harding, PA. Everyone is asked to go Directly to Church on Monday Morning. Birthplace & Residence Birthplace: West Pittston, Pa Resided In: Laflin, PaViewing Location: Howell-Lussi Funeral Home Date: Sunday, November 07, 2021 Time: 4:00 pm to 7:00 pmFuneral Location: St. Maria Goretti's Church Date: Monday, November 08, 2021 Service Time: 10:00 am to 11:00 amCemetery Location: Mountain View Burial Park Date: Monday, November 08, 2021 Time: Immediately Following Service
Read More
A Memorial Tree was planted for Catherine
We are deeply sorry for your loss ~ the staff at Howell-Lussi Funeral Home
Events
Online Memory & Photo Sharing Event
About this Event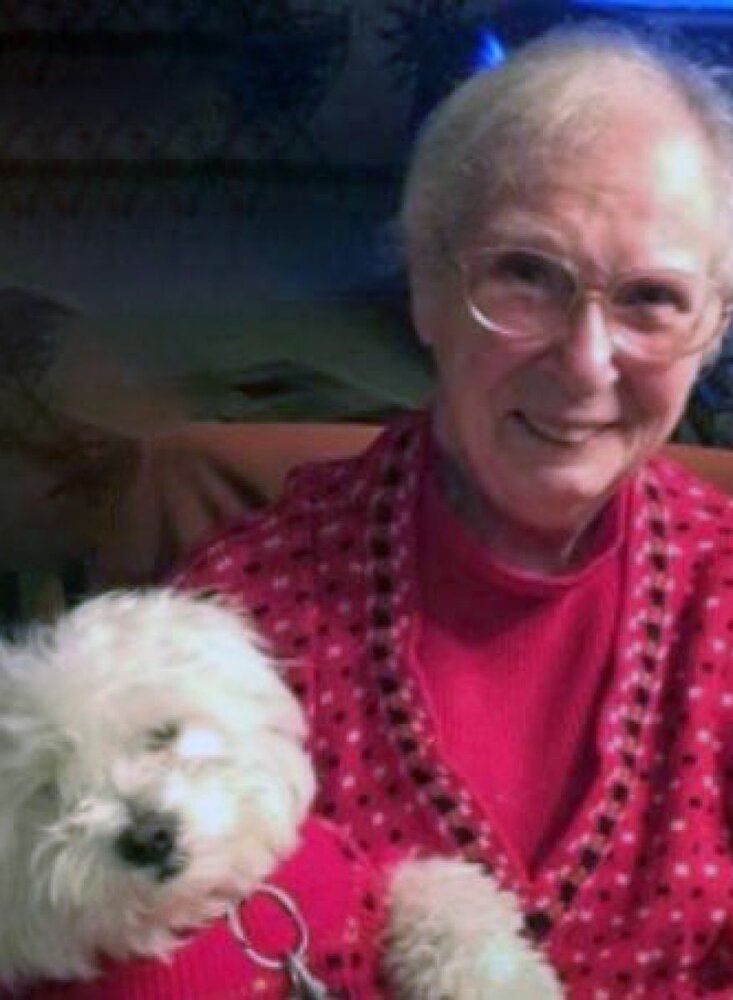 In Loving Memory
Catherine Martinelli
1929 - 2021
Look inside to read what others have shared
Family and friends are coming together online to create a special keepsake. Every memory left on the online obituary will be automatically included in this book.